The Perlman & Perlman Difference
We differ from other non-legal compliance services that provide "one-size-fits-all" or "do-it-yourself" solutions to registration. Our process starts with a comprehensive analysis of your organization's charitable solicitation activities.  We consider not just where you solicit, but how and at what level.
Our Compliance Specialists are supported by our attorneys to ensure that your registrations are complete and fully in compliance with each state's requirements. The result is a compliance service that uniquely complements your organization's fundraising strategy, reducing uncertainty, and saving you time and money that helps you better accomplish your organization's mission.
As part of our fundraising compliance services:
We help you to determine where you need to register by providing a legal analysis of your fundraising activity and resulting registration obligations
We prepare and submit the state forms in accordance with the states' expectations
We provide complete annual management of the process with regular status reports
You communicate with a dedicated Compliance Specialist supported by knowledgeable attorneys
We help you address any compliance issues using our knowledge of the state regulators and the law
We provide client alerts regarding upcoming regulatory changes
The Perlman+Perlman Registration and Compliance Process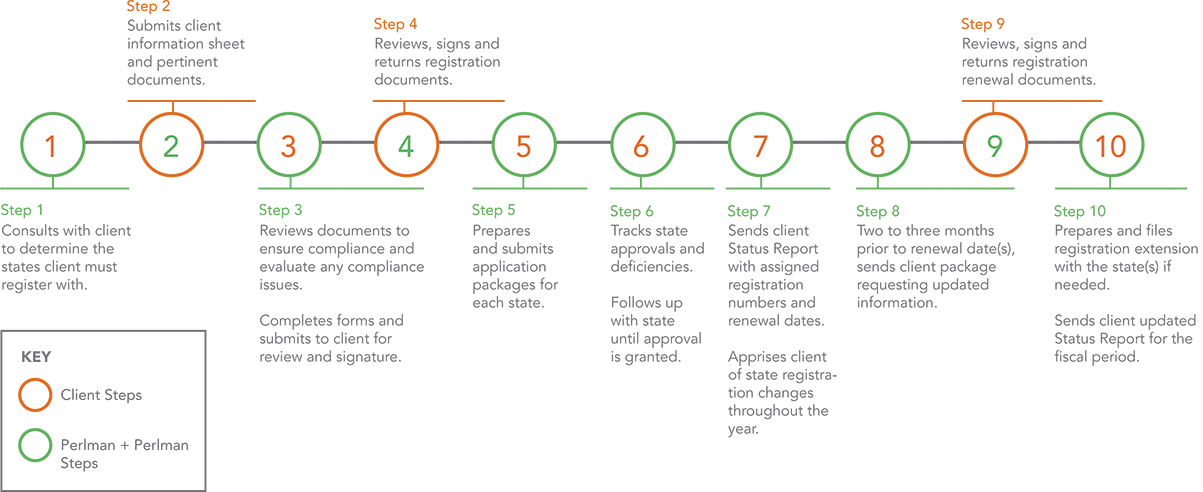 In addition to our fundraising compliance services, we offer related legal services including
Drafting, negotiating and/or reviewing fundraising contracts
Developing and/or reviewing required fundraising disclosures
Negotiating administrative penalties, fines and  state consent agreements
Reviewing IRS tax forms  to ensure compliance with state reporting obligations
Corporate filing services
State sales tax and corporate tax exemptions